We've all been waiting years now for Tha Carter V to be released. From back in 2014 when people like Kobe Bryant were hyping the release tweeting hashtags with "Carter 5 Season" and teasing photos of potential album covers.
(This post is outdated. Tha Carter V has been released and you can read our full review here)
Here we are now halfway through 2017 and still no Carter 5. We know it exists, thanks to several producers and the now infamous Martin Shkreli, but will the Carter 5 release date be in 2017 at all? Will it even be in this decade? Many people compare the Carter 5 to Dr. Dre's notoriously mythical Detox album. There is a major difference between those two albums though. Detox was always clouded in mystique and rumor. Certain artists, including Lil Wayne himself, would supposedly be writing for it, and then supposedly someone was working on a feature for it, but we never saw any hardcore proof leading up to a release.
The Carter V is completely different. We've had singles released, we've had a music video for Krazy, and we've had confirmations from many in the industry that the unseen Lil Wayne album is locked and loaded, ready to hit the release button. The problem this entire time has been Lil Wayne's contract situation with Cash Money Records.
Weezy has claimed that he had the Tha Carter V ready to deliver to Cash Money for mass distribution, but that at the time of the scheduled delivery he still had not been paid a $7 million advance that he was owed for the delivery of it. We can assume that Wayne was operating in good faith that the advance would eventually be paid when he recorded the album.
Since then, we've seen a $51 million lawsuit and allegations from Lil Wayne that he hasn't been receiving his owed royalties from Cash Money for his signees Drake and Nicki Minaj. He's also alleged that Birdman has blown huge chunks of money from Universal Music Group that was supposed to go back into the YMCM business, in order to pay and develop new and existing signees.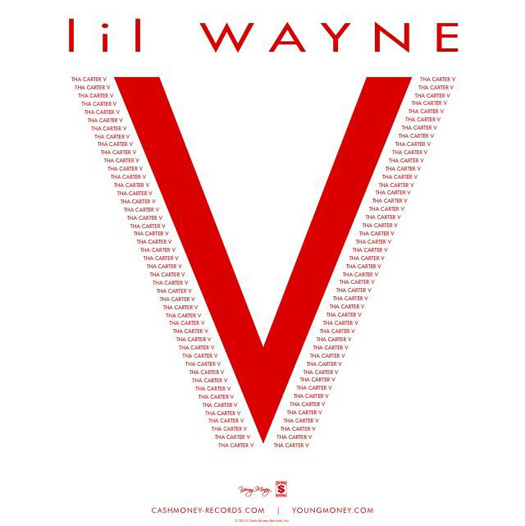 Lil Wayne announced at a show back in April that the Carter 5 is coming soon. But after years of broken promises, most likely not his fault, I think we've crossed into "fool me once, fool me twice" territory on Weezy promising release dates. And "soon" is a very ambiguous timeframe. Birdman has also promised the project will be released this year, but if he really had that control, wouldn't the album have been released at the height of all this drama and hype surrounding Tha Carter V?
Instead, Wayne just released a four-track project called In Tune We Trust that was most likely some leftovers from the upcoming Dedication 6 with DJ Drama. Drama has been promising the Dedication 6 for a while, but you have to remember that DJ Drama is not objective when it comes to Wayne releasing that particular project. I'm not saying that Drama would do anything to intentionally screw over Weezy in the least, but you have to know that if he can do anything to build excitement around a Dedication 6 that can convince Wayne it's a project he needs to release, he most certainly will.
But even so, we will most likely see a Dedication 6 within the next two months. And hopefully we will see the promised Funeral project come after that. How it will be released remains to be revealed. Will it be released as a Tidal exclusive under the Young Money Entertainment umbrella just as FWA was? Or will Wayne have a deal worked out with Jay Z and Roc Nation by then?
None the less, every time some speculation about a new Wayne project starts, the most common thing I hear from Weezy fans is "WHERE IS THA CARTER 5???" So far we're all holding out hope. Wayne's camp likes to release things in the summer, so maybe if we're being optimistic we can expect a Carter V release date of around June 2018, but that is of course optimistic. A lot of things need to happen between now and then to make that happen.
However, we're presumably just one court ruling away from the freedom of Tha Carter 5, so if that happens we could see Wayne release it through some sort of Young Money/Roc Nation joint venture as soon as he wants.
One thing is for certain, Weezy fans have been very loyal waiting this whole thing out. Let's hope we're all still alive to enjoy Tha Carter V once it's actually released.